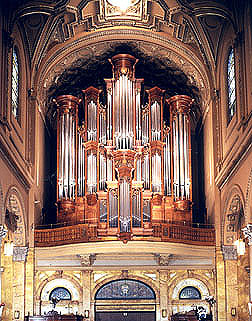 This spectacular new instrument was completed by Mander Organs of London in 1992 while Stephen Bicknell was employed as head of design. The proposal for the organ was prepared by John Pike Mander and his colleagues, the case design being the work of Didier Grassin. Stephen Bicknell took charge of the detailed technical design of the project, also preparing final working drawings of the case, and designing the mouldings and other details. He was assisted by Didier Grassin, Geoff MacMahon, and James Richardson-Jones.

The organ case, made of solid french oak, is one of the most spectacular to be built in modern times, rises to a height of 13.3 metres (44 feet) above the gallery floor. The organ has four manuals and sixty-eight speaking stops, nearly five thousand pipes, weighs over twenty tons, and is believed to be amongst the largest mechanical action organs ever built in the British Isles.

The instrument is sumptuously appointed in every detail and built with the highest quality materials. The pipes in the facade are made of polished tin. Assembly on site was in the hands of a team led by Les Ross. The organ was voiced by David Frostick and Michael Blighton, and tonal finishing on site was carried out by John Pike Mander and Michael Blighton.

The organ, with strong leanings towards the French symphonic style, has been acclaimed as one of North America's most significant pipe organs.



More photos of the organ at St. Ignatius



Mander Organs